Owner, Head Trainer: Craig Klein
Craig has loved dogs and the outdoors for as long as he can remember.  Hunting became his primary interest at a very young age and a boy can't go hunting without a dog.   Growing up Craig had the opportunity to have all three of the major retrieving breeds, Labradors, Goldens and Chesapeakes.   As a teenager, there were not many days in the fall where Craig couldn't be found following his dogs around the marshes and meadows chasing ducks and pheasants.
Just out of high school Craig purchased a well-bred chessie pup and decided to train the dog to a higher level.   He enjoyed working the dog so much that he looked for something for them to do in the off season.   This led Craig to a AKC Hunt Test.  Didn't take long for Craig to realize he had a lot to learn. Over the next few years he poured over training material by authors like Rex Car, Dave Rorem, Mike Lardy, D.L. Walters, John and Amy Dahl, Butch Goodwin and Bill Hillman.   Then he went to work on weekends for Pro trainer Pete Fischer and soon he started bringing home ribbons from the upper level AKC hunt test.  He then realized that training dogs was what he wanted to do.
On August 14th, 2009 his dream became a reality.  Craig purchased Fischer's Kennels & Hunt Club LLC.  Since then Craig has gone on to title numerous dogs at the highest levels of AKC field competition on top of that also training countless top notch gundogs.  His entry to ribbon ratio is among the best in country. 
Craig has made television appearances on Avian X, MN Bound, Due North Outdoors, Pheasants Forever TV and has also written articles for the St. Cloud Times, Pheasants Forever and Ducks Unlimited.
Craig is Pro Staff for Avian X, Zink Calls, Dogtra, Mossy Oak and Plano Synergy.
---
Assistant trainer, Kennel Manager: Josh Tritabaugh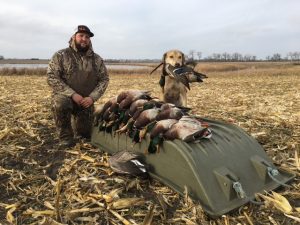 Josh joined the Fischer's Kennels team in 2012.  His love of dogs and training is obvious.  Josh got his start in training dogs at a very young age.  He cut his teeth training coonhounds.  He had a major hand in taking 6 dogs to their UKC Night Champion titles. 
The first-time Josh seen the work an AKC Master hunter retriever was capable of he was amazed and hooked, it's been all retrievers ever since.  Josh has since become a hard core waterfowl hunter.   I can assure you that he, like Craig takes training every dog,  very seriously and personally. 
Josh Pro Staffs for C&S Calls
---
The Klein Girls:
Craig's wife Michelle is a Clinic Manager but also helps out with the book work and will occasionally help with appointments if Craig is gone running trials or test.  Hannah, Karlee and Logan can commonly be seen around the kennel doing various chores including throwing birds, cleaning kennels, dog baths, mowing lawn, poop patrol and their favorite puppy socializing!