Training Philosophies:
Craig Klein and Fischer's Kennels founder Pete Fischer have been responsible for developing many modern e-collar training methods, many which are game changers.  Never being satisfied with the status quo, always looking for a better way.  We have developed a flexible and very humane training program that allows a large variety of canine temperaments to excel.  We have become widely known and recognized for our work with minority breeds in both retriever hunt test and field trials.  Priding ourselves as being out of the box thinkers and matching the training to fit the dog is what has gained us this reputation.
We believe in EFFICIENCY!  This is something that we feel is really lacking by many of our competitors.  Our facility is set up to maximize training time.  We have unlimited training grounds on site so we waste very little time transporting dogs.  Our kennel systems are easy to clean and sanitize.  We can literally grab a dog out of there kennel and take 10 steps and run countless open all age field trial set-ups.
Lastly, there is no substitution for work ethic, dogs don't get trained by sitting in a kennel or on a truck.  Dogs being trained at Fischer's get worked every day, 7 days a week.
Obedience Training:
Has your dog taken over your home? Does it jump on people, nuisance bark, pull you on walks, or won't come when called? Our extensive knowledge of canine behavior and the ability to implement the most advanced training techniques has earned us the reputation of being the trainers people turn to when all other options have been exhausted.
During your dog's stay with us, it will be housed in our climate-controlled kennel facility. We will work on practical obedience training and problem-solving to enhance your dog's behavior. Our daily training routine consists of many short sessions using positive and negative reinforcement in a humane manner. Your dog will also receive (2-3) vigorous exercise periods per day with other dogs, in one of our controlled exercise areas. We believe a happy, healthy dog is a well-trained and conditioned dog. Before your dog returns home, we will work with you so you will know the proper training techniques specific to your dog's issues. This will allow you to continue on with the training. Our Obedience Training Program is open to all breeds.
---
Basics Gundog Program: 
The Basics Gundog program is the minimum amount of training your dog should have before taking it afield. At this level, dogs are introduced to live birds, gunfire and basic obedience, as well as electric collar conditioning using low level stimulation designed to enhance your dog's behavior.  When completed with the program dogs should be doing all basic ob both on and off leash with the use of the e-collar.  Retrieving breeds should also be retrieving live birds with gunfire and will also be introduced to decoys, boats and water (weather permitting).  Most dogs finish this program in 4-8 weeks.
Pointing breeds will have a good handle on the "whoa" command and should be pointing planted birds and hopefully retrieving.  Most pointing dogs finish the program in 6-8 weeks.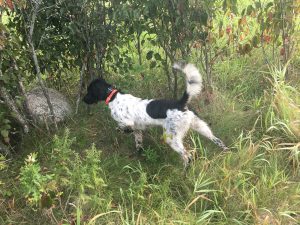 ---
Intermediate / Advanced Gundog and 
Hunt Test and Field Trial Training
It takes knowledgeable and experienced trainers and great training grounds to make a world class gundog or a top-notch hunt test or field trial competitor.  Here at Fischer's we have both in folds. Your dog's training at this point can go many different directions.  We will come up with an individual plan for you and your dog to reach your goals, whether it be a hard core hunting companion or first class competitor.
During your dog's down time they will be housed in a clean spacious 4'x8' kennel instead of being crammed in a dog truck which is all too common these days.  They will also have play time twice a day in one of our huge fenced in grassy airing yards.  This stress relief time is critical when doing advanced training.